Corporate Alliance with NetSol
October 08, 2012

Lahore: Gymboree Delegation visited NetSol Technologies for a sneak peak at their innovative new project, Itchy Fingerz - an interactive mobile games and applications studio for Android, iPad and the iPhone series. Meeting the creative designers and developers at NetSol was a great experience for the team.

Gymboree officials who visited NetSol include Mr Syed Ali Tabraiz Bokhari, Senior Manager Corporate Communications, Beaconhouse, Mr Farhan Ali Jawa, Corporate Manager, Gymboree Pakistan and Mrs Quratulain Ali, Brand Manager, Gymboree, Pakistan.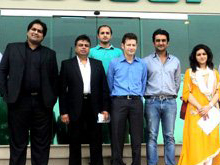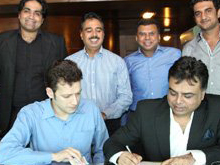 Standing L-R - Mrs Quratulain Ali (Brand Manager, Gymboree Play & Music), Mr. Farhan Ali Jawa (Corporate Manager, Gymboree Pakistan), Mr Salim Ghauri (CEO & Chairman NetSol Technologies) , Mr Naeem Ghauri (President, NetSol Technologies Europe, Ltd) & Mr Fawad Ghauri (Global Head Marketing, NetSol Technologies) Sitting L-R - Mr Syed Ali Tabraiz Bokhari (Senior Manager Corporate Communications, Beaconhouse), Mr Ayub Ghauri (Senior Vice President - NetSol Technologies